Topower Computer Introduces PowerBird 900W & 1100W Fully Modularized PSU to High-Performance Systems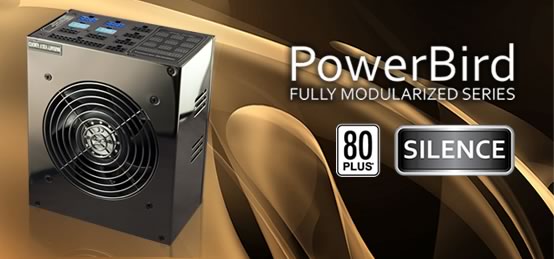 City of Industry, Calif.¡XJune 27, 2008¡XTopower Computer, a worldwide leader in innovative, high performance and high reliability power supply, today unveiled the PowerBird power supply family for high-powered gaming systems and workstations. Designed to offer the consumer market an industrial-grade computer power supply with state-of-the-art designs, the PowerBird is the ultimate power solution for those users that require an ultra-efficient, highly reliable, high-wattage solution for their leading-edge gaming machine.
PowerBird PSU features fully modularized cable management that gives the greatest freedom of cable routing and customization, maximum 87% efficiency is one of the greenest and efficient high-wattage power supplies available in market, six +12V rails ensuring great safety and stable current that evenly distributed to graphics cards, processors, and the rest components.
¡§PowerBird power supply is truly a build of craftsmanship that is intended to meet today's most demanding gaming machine and expectations of system builders¡¨, said Rick Lee, Product Manager for the Topower Computer USA. ¡§The PowerBird power supply has been adopted by many high-performance system integrators in North America. We work closely with these professionals ensuring the power supply we build are in solid quality and deliver greatest value to consumer.¡¨
The PowerBird will be available in 900W and 1100W configurations, delivering up to 1.1KW of continuous power through a complete array of connectors including six 6pin and (6+2)pin PCI-E and two 8pin processor connectors. These PSUs are kept extremely cool and silent with a large 120mm fan and feature a standard ATX power supply form factor.
Topower Computer Industrial Co. LTD. was established in 1986 as a manufacturer of switching type power supplies. With more than 160 worldwide patents, we are committed to deliver the most advanced and innovative power technology to consumers, system integrators, and corporations.