KC Series power supply combines true power with performance. KC series is an ideal solution for Gamers, Modders, Server and Power users who demand the very best from their system.
850W ATX 12V Power Supply - single rail design
Complete Flat Cables
Hassle free cable managment on all cables for efficient cable routing.
Double Bearing Cooling Fan
Quiet and thermally conrtolled 120mm cooling fan
High Efficiency
+80% energy efficiency at 20%, 50%, and 100% load conditions.
High Safety Standards
Quad GPU Ready
Supports latest Single / Multi-Core GPUs in the market.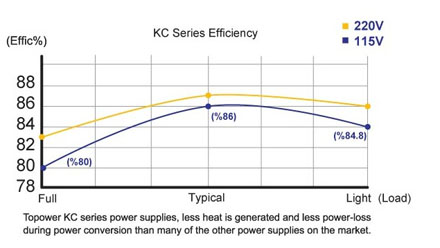 DIMENSION (L x W x H)
Metric: 160 x 150 x 85 (mm)
US: 5.7 x 5.9 x 3.3 (inches)
SPECIFICATION:
Input Voltage

115-230V 60/50hz 12-6A


Output Voltage

+3.3V

+5V

+12V

-12V

+5SB

Max Current Output

26A

26A

67A

0.8A

3A

Total Wattage

850W